Glassworks
The workshop is compact but fully comprehensive with good natural and artificial light (daylight bulbs).
Some areas of the workshop have a restrictive ceiling height.
Overall Workshop floor space: 8.5 x 6.5 meters.


Please Note
The
gate glassworks
is currently only available for cold processing hire to suitably qualified makers on a daily basis - please contact us for hire rates, terms & conditions and availability.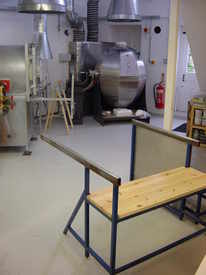 Glass Furnace
Cerama 50L (natural gas) melting non-lead Kugler Clear premelted cullet. Pot holds around 120 kilos
Glass making Bench
Standard size with movable tool stand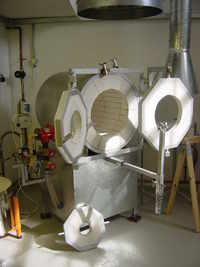 MRJ Auto Ignition. Collar Diameters 10, 20 & 30cm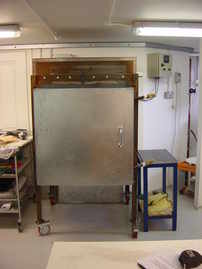 Internal Chamber Size 70cm x 70cm 70cm
Internal shelving 3 tiers, two half shelves per tier. Half shelf 30 x 60cm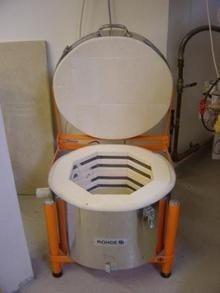 Rhode Top Loader with Bentrup
TC Program;
Internal Chamber Height 23cm, Diameter 33cm

Other Equipment

include various sized stainless steel Essence blowing irons, pontils and gathering irons.
Small metal Marver (dimensions 35cm x 60cm - height 80cm)
Finishing & Cold Shop
Equipment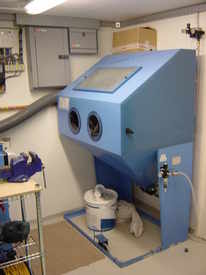 Gyson Model Formula F2600 Blast Cabinet
Chamber dimensions h:770mm, w:1070mm, D:760mm
Model F41 Dust Collection Unit
120/150 aluminium oxide blast media.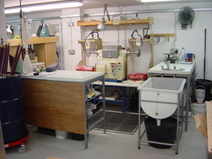 Cutting lathe sink & work benches
Batisti Double ended Torino Tipo T2. Standard 1"bore Mandrels.
Diamond Cutting Wheels 6" x 1 ½" Radius Wheels, 100, 360, 600.
Flexi-band Drum 15cm x 4cm with diamond bands:
Green-60, Black-120, Red-200, Yellow-800 grit bands.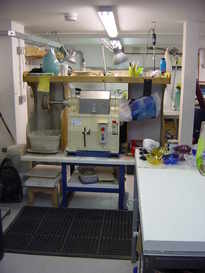 Batisti Double ended Torino Tipo T2.
Cork Wheels & Pumice. Felt Wheel & Cerium Oxide.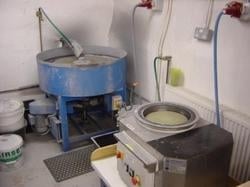 Essemce Flat Mill SP- 5. 600mm Cast Iron Wheel. 80 & 120 Carburundum Grit.
Di

amond Grinder
Batisti Mini Plano machine with 250mm diameter plate.
Interchangeable magnetic diamond disks: Green-60, Black-120, Red-200, Yellow-800 grit.